Sometimes I remember my daughter as if it was just yesterday I was saying Goodbye. Then sometimes there are days that I miss her but not in a state of feeling overwhelmed in emotion but by the smiles in my children, the sunrise in the morning, the rainbows after the rain.
Sometimes I wish I could go back to that very moment and kiss her forehead one more time. Tell her how much I love her and I will miss her very much. Whisper in her hear how I was the luckiest mom in the world. Tell her again that was not the end of our story. We will meet again. Physically holding her and whispering sweet nothings.
I had dreams for her. I had dreams as a mother to watch her grow. To play dolls together while brushing her beautiful auburn hair.
I had dreams to skip with her at the park. Walk barefoot on the beach. So many dreams that were gone before I even knew.  I miss her every day. I cherish the memories and the dreams that did come true. The dreams that I had and the dreams that God had for me.
He is with me every aching moment. He is with me every hopeful smile. He was with me through it all.
I remember her everyday and so should all of you tender mama's who have lost a sweet baby either through miscarriage, stillbirth, or infant death. Any type of loss. The reality is our babies died. As hard as it is to say or as harsh at it may sound. It happened.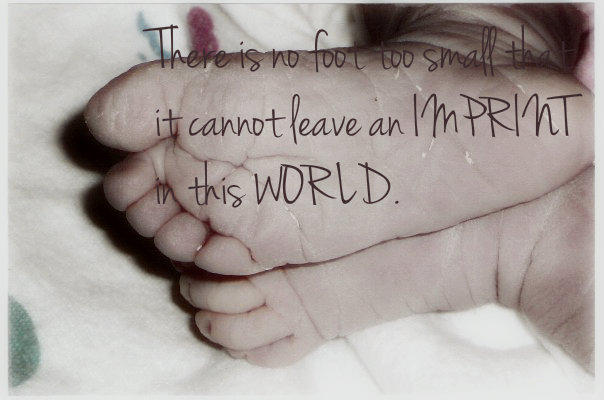 But you, my sweet friend, are a daughter of God, a God who loves you too much to leave you brokenhearted. A daughter of God who has a child in Heaven waiting on you. As each new day dawns and the sun starts to creep in and shine upon your face, remember, grief is exhausting. But let that Sunshine refresh your soul. It takes time and every person's grief is different but you can remember and you can live. We are forever changed but we can remember.
You can remember the smiles you once had. You can remember the hurt. It's ok God is right there with you. Comforting you and giving you peace. Although we have this comfort from God and others around us my heart is very heavy for any mom that has to go through this pain. I have said before and I truly wish I could take away your pain because I know the heavy road ahead. Although it is anything but easy I survived.
As we remember our babies on October 15th, Pregnancy and Infant Loss Remembrance day, I pray that you feel comforted. I pray that you have someone to share your grief with. If you don't please feel free to share with me. I pray that you know your child is in the arms of our loving God. I pray that you have remembrance and hope.
Today I pray that you feel loved and not alone. Today is about compassion and mercy. Today is about honoring your babies and raising awareness.
 Love,